Global Acumen Requirement
Pamplin School of Business (PSOB) defines Global Acumen as the ability to identify, appreciate, and understand the cultural, economic and linguistic components of other cultures while reflecting the values and principles of our unifying global communities. As such, PSOB requires that all undergraduate students complete a Global Acumen requirement within their four years at University of Portland.
The goal of the Global Acumen requirement is for each business student to achieve Traveler or World Citizen level according to the Global and Intercultural Learning Outcomes.
The components of undergraduate Global Acumen include: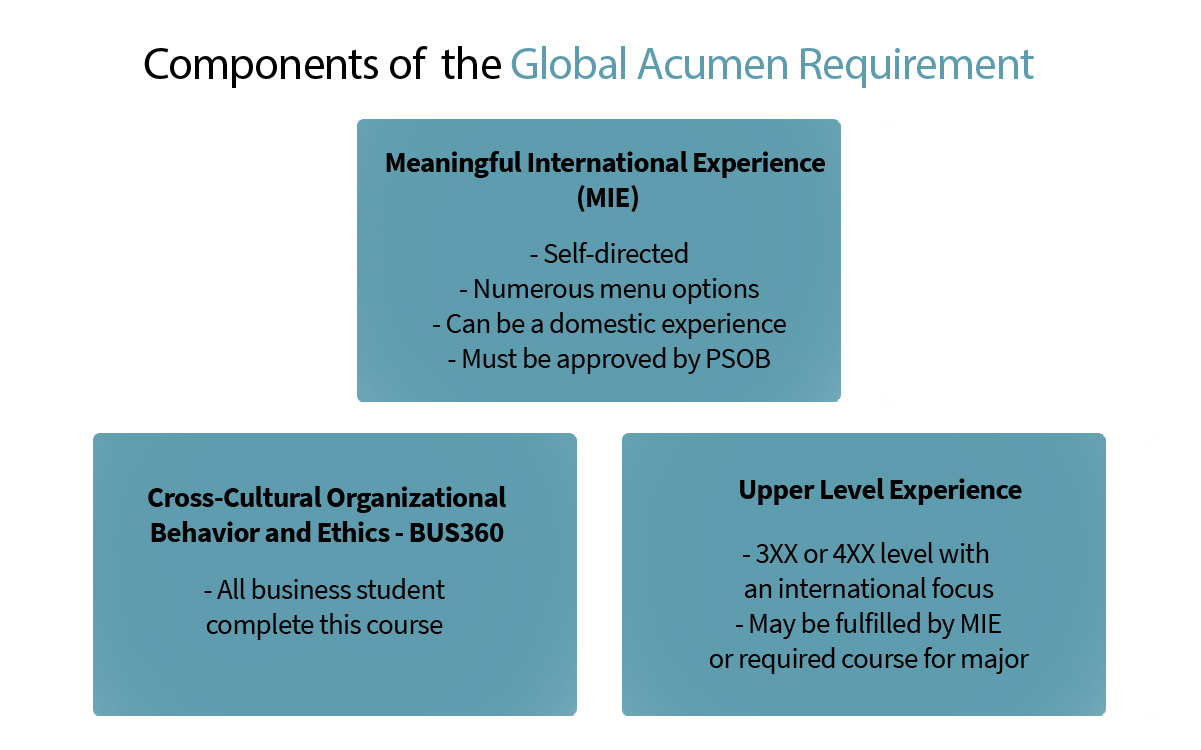 The Meaningful International Experience (MIE) may be different for every single student and must be pre-approved. Experiences that may qualify as an MIE include programs through UP Studies Abroad, Moreau Center, Entrepreneur Scholars, international internships, and extensive cultural volunteer opportunities. The student will determine the most appropriate MIE for themselves. All expectations and documentation regarding MIEs will be made available to students through the online platform UP- Engage. 
For more information or questions about the Global Acumen requirement, please email busglobal@up.edu or contact the Pamplin School of Business office at 503-943-7224.
Cassie Coburn - Class of 2020
Business Administration: Undeclared
"Being able to experience such a different lifestyle and culture is really amazing. Specifically, studying in a different country really places you right into everything, where you get the chance to be involved in a way that you wouldn't otherwise if you were just visiting."
Bailey Shafer - Class of 2019
Operations and Technology Management
"Study abroad gave me so much confidence. I did things I never would have dreamed of doing. Experiencing so many different cultures made the things I learned in the classroom so much more real. In my internship I was able to apply the skills I gained to effectively work with people all over the world."
Katie Richmond - Class of 2018
Marketing
"As an Entrepreneur Scholar, I was fortunate enough to travel to Osaka, Kyoto, and Tokyo, Japan with the intention of meeting business professionals to assist in the development of my venture. These meetings were up to me to secure, which made for a challenging and extremely rewarding experience. Meeting with companies such as Wieden and Kennedy Tokyo and Birdman allowed me to learn about international marketing in a direct and genuine way. Overall, my trip to Japan gave me the confidence and guidance necessary to pursue a venture of my own."