Business Undergraduate Programs
In the Dr. Robert B. Pamplin, Jr. School of Business, students develop an entrepreneurial mindset and global acumen to innovate, lead and solve complex business problems within an ethical framework. We review our curriculum continually so it remains current and relevant, and our expert faculty members are dedicated teachers and scholars who are engaged in the business community. Non-business majors can earn both their undergrad and then a master's in Operations & Technology Management in five years.
Pamplin School of Business graduates are known for making a difference in the world, and so can you. Our programs and resources will give you the skills, confidence, and knowledge to initiate change and solve complex problems. We are one of five business schools in Oregon accredited by the Association of Advanced Collegiate Schools of Business (AACSB). 

Our Bloomberg Trading Room, one of the largest of its kind at a university in the West, has nine dedicated terminals that allow you to research stocks and financial data. There are a host of student-run clubs that will compliment your major and enhance your university experience.
We strongly encourage participation in a meaningful international experience to prepare you for leadership roles in the global community.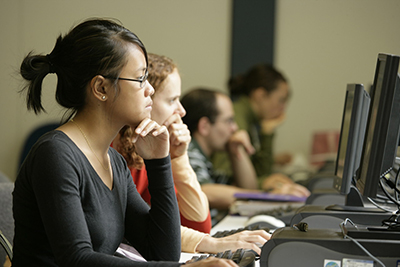 Our Pamplin Professional Preparation Program (P4) will provide you with the tools you need to discover and explore your career path as well as analyze your strengths and interests to identify the vocation you will truly enjoy.
Collaboration with Portland's business community provides access to case projects and mentoring, as well as internships that often lead to full-time positions. Our graduates are heavily recruited by companies such as Adidas, Cambia Health Solutions, Intel, KPMG, Merrill Lynch, Nike, Precision Castparts, Providence Health and Services, and Wells Fargo.
Beatriz Itzel Cruz Megchun Assistant Professor of Design, Pamplin School of Business
"I am always seeking opportunities to participate in projects with NGOs and governments to address social inequalities, design promotion, and innovation development."