Pamplin Professional Preparation Program (P4)
An education at the University of Portland's Pamplin School of Business goes beyond the nuts and bolts.  The Pamplin Professional Preparation Program – P4 – is fully integrated into the academic curriculum and ensures that you leave campus with much more than just a degree.  You will start your professional preparation during your first semester, and continue to hone your presentation skills and build your professional network throughout your four years on the Bluff.  The P4 provides you with the opportunities and experiences to avoid the most common regrets of recent college graduates from other  schools.
Upcoming Speed Networking Events for Students

For more detailed information about each event, please click on the dates below.
What is the P4 Program?
P4 is...
Integrated into each curriculum is a core philosophy that by learning about yourself and the world with your head, hands, and heart, you will discover your vocation, and be prepared to enter the world as an ethical and creative business leader.
Every Business Student Participates
The Pamplin Professional Preparation Program (P4) is a credit based 4 year program that all students in the Pamplin School of Business participates in. A framework is created to allow a deeper understanding of your strengths and the role it plays in your professional development. The goal is to understand yourself and the common good deeply enough so you can find not just a job, not just a career, but a vocation.
Courses of the P4 Program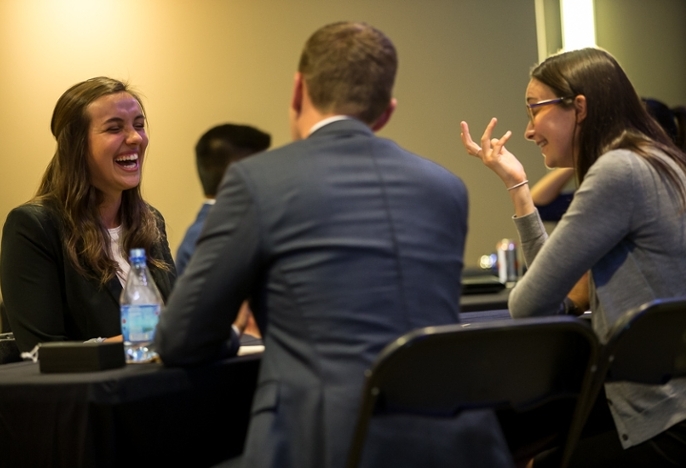 BUS 100 - Introduction to Leadership Skills
Course Topics:
StrengthsQuest Test • Activities Fair • Ropes Course • Informational Interview • Networking • Site Visit/Job Shadow • Resume Building • Develop an E-Portfolio for personal and professional assessment
BUS 202 - Professional Development
Course Topics:
Site Visit/Job Shadow • Group Mock Interview • Habit Awareness Seminar •  Cover Letter •  O*Net Assessment • 360 Communication Style • Draft of Personal Brand • Dress for Success • Service Day: Leading Self • Public Safety Driving Seminar
BUS 302 - Professional Development Internship
Course Topics: 
Actions to Habits Seminar • Etiquette Dinner • Evaluating a Vocation Offer • LinkedIn Profile • Videos for E-Profile • Brand Video • Employer Profile Assessment • Individual Mock Interview • Internship Experience • Service Day: Leading Teams
BUS 402 - Professional Development Leadership
Course Topics:
Finalize E-Portfolio • Service Leadership • Consulting Project BUS 400 • Leadership Philosophy • Leadership Speaker Series • First 90 Days Workshop • Networking • Transition from Student to Professional