Women In Leadership Forum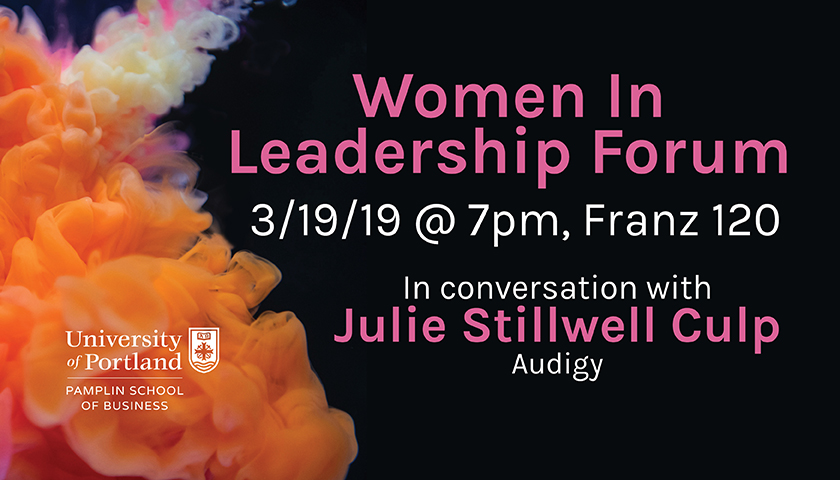 The Women in Leadership Forum connects UP students with dynamic women who are leaders in the greater Portland community. The Forum is a place for sharing stories, building connections, and supporting the development of women in leadership. 
Are you ready to ignite your leadership potential?
Julie Stillwell Culp
March 19, 2019 (7pm)
Julie Stillwell Culp serves as a Regional Director for Audigy.  Audigy is a management consultant company that supports independent hearing care practice owners to achieve their personal, professional, and financial goals through their business.  Julie has a passion for supporting people in achieving their goals.  She started her career as the Director of Admissions at St. Mary's Academy, worked as a Human Resources Manager at Target, and has been at Audigy for the past five years serving in several roles.  Julie has a strong background in sales, customer service, and human resources.  Julie has a BBA in Marketing and Management ('05) and MBA ('10) from the University of Portland.  Julie has a 6 year old son who is in kindergarten and enjoys coffee dates with him, jumping at the trampoline park, and slipnslides in the summer.  Balancing education, career, and parenting is possible, lets talk about women in leadership and how we can raise each other up.
Previous Speakers
Shari Dunn
September 26, 2018 
Shari Dunn is the Executive Director of Dress for Success Oregon where she brings to bear her vast array of experience and expertise toward a cause that is dear to her heart: the empowerment and transformation of women reentering the workforce. Shari's experience includes representing victims of domestic violence for a decade as a practicing attorney, working nationally as a non-profit executive and funder, focusing on the national legal services system. Shari then transitioned into broadcast journalism and spent a decade as a news anchor/reporter in Los Angeles, California, Tyler, Texas, and Milwaukee, WI. Recently, Shari was chosen by The Standard Insurance Company to participate in a year long leadership program, American Leadership Forum (ALF). In 2016 Shari was appointed by Governor Kate Brown to the Oregon Workforce Investment Board, which oversees innovation and coordination of Oregon's workforce. Finally, Shari was nominated to serve on the Oregon Women's Foundation board of directors and began her term in the fall of 2017.
Renee Eaton
November 7, 2018
Renee Eaton is a founder and the CEO of RapidMade, a 3D printing, engineering and manufacturing firm based in Portland, Oregon.  In August, they celebrated their 7th anniversary.  During this time, the company has experienced a tenfold increase in revenue and quadrupled its staff by promoting innovative product design and sustainable manufacturing practices.
Before starting her own company, Renee worked extensively in Operations and higher education. Most recently, she was employed at Western Oregon University as its Director of Service Learning and Career Planning. 
Renee also spent a year abroad in Surrey, England. While overseas, she studied the English higher education system, completed college admissions counseling coursework, and traveled extensively throughout Europe and Northern Africa. 
Prior to her move, Renee taught management classes and career planning at the University of Portland's Pamplin School of Business for 8 years, so she is very pleased to be back on campus.   
She began her career in Pittsburgh as a manufacturing manager with Nabisco where she worked for almost two decades. During this time, Renee earned her MBA at the University of Pittsburgh.
Daphne Parker & Kari Parker
January 29, 2019 
Daphne Parker is head of the hospitality department at Bob's Red Mill. Her background is full of diverse experiences from makeup artistry at Sax Fifth Avenue in Vegas to teaching 1st and 2nd grade for Cor Deo Christian Academy. She pulls on aspects from each of her many career roles to provide her customers with the ultimate guided tour through Bob's exclusive factory. Her daughters (depicted with her) have learned from her many skills including acting, teaching, and communication, and interpersonal skills that have become vital parts of their own leadership journey. Her youngest (right) is a Sophomore in the Honors college Oregon State University studying pre-veterinary sciences, and her oldest (middle) is a manager at the Boeing Company and is also pursuing an Executive MBA with the University of Oregon. Kari, her oldest daughter will be accompanying her to this event, and they will be sharing how they have found in their road to leadership that it is in the little things.