Operations & Technology Management, BBA
Prepare for a career as a supply chain analyst, management consultant, quality engineer, data/information analyst, or business systems analyst. This a hybrid major combining information technology and operations management designed to equip students with the tools necessary to manage global operations.
The operations and technology management program includes four required courses covering managerial finance, managing innovation and change, project management, and supply chain management. In addition students take electives.

As the world's largest business education alliance, AACSB International—
The Association to Advance Collegiate Schools of Business (AACSB)
connects educators, students, and business to achieve a common goal: to create the next generation of great leaders. Synonymous with the highest standards of excellence since 1916, AACSB provides quality assurance, business education intelligence, and professional development services to over 1,500 member organizations and more than 785 accredited business schools worldwide.
The University of Portland Pamplin School of Business is one of five business schools in Oregon accredited by AACSB.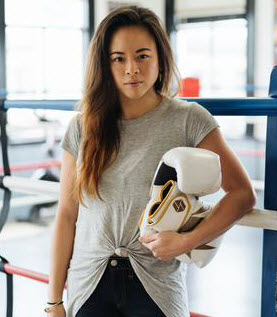 Lynn Le - Class of 2011
Global Business (Concentration OTM) & French Studies
"Congratulations to Lynn Le for making the Forbes 30 Under 30 list for 2018! We wrote about her in May when she made the Portland Business Journal's 40 Under 40 list for 2017. We are very proud of her and everything she does! Go Pilot!"