Customer Experience Management & Analytics Certificate
Customer Experience Management and Analytics Certificate. Traditional sources of competitive advantage are eroding at an accelerating pace. Analogous to how services replaced products in the 20th century, customer experiences are augmenting product features and service offerings as drivers of buyer behavior in the experiential economy. This four course certification includes the following four courses. The first course will begin this spring 2019 and offers an overview and analysis of how strategic thinking, innovation, and leadership must change to support this new reality.
1.Strategy and Competition in the Experiential Economy
2. Creativity, Innovation and Human Centered Design
3. Designing Innovative Brands that Resonate with Customers
4. Gaining Customer Insights: Qualitative and Ethnographic Research Methods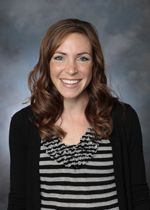 Want to ask a question or set up an appointment with our Director of MBA Programs, Melissa McCarthy, click on the button!
ASK A QUESTION
Admission Requirements
To be admitted to this program, students must hold a bachelor's degree to obtain a Post Baccalaureate Certificate in Business Analytics, or graduate business degree, from an AACSB accredited institution, to obtain a Post Graduate Certificate in Business Analytics:
Current resume
Official transcripts (from all previously attended academic institutions)

As the world's largest business education alliance, AACSB International—The Association to Advance Collegiate Schools of Business (AACSB) connects educators, students, and business to achieve a common goal: to create the next generation of great leaders. Synonymous with the highest standards of excellence since 1916, AACSB provides quality assurance, business education intelligence, and professional development services to over 1,500 member organizations and more than 785 accredited business schools worldwide. The University of Portland Pamplin School of Business is one of five business schools in Oregon accredited by AACSB.