Business Analytics Certificate
The Business Analytics Certificate is a STEM designated program.
STEM refers to science, technology, engineering, and mathematics. The U.S. government recognizes expertise in the data science fields, such as this certificate in business analytics, as an important driver of innovation and job creation. It is also a designation that is highly regarded by employers.
The Pamplin School of Business provides students with a distance-learning option for the post-graduate and post-baccalaureate business certificate programs in Business Analytics. 
Students will take the following Operations & Technology Management (OTM) courses either online or in-person or a combination of both:
BUS 543 – Decision Modeling
BUS 555 – Database Management
BUS 519 – Business Analytics
BUS 552 – Optimization
Upon completing the Business Analytics certificate program, students should be able to understand and apply:
the fundamentals of modeling, optimization, and simulation and use appropriate analytical methods for decision-making under uncertainty, risk, and constraints
organizing organizational data science assets and use databases to create structure and solutions
the fundamentals of data visualization and predictive models and use appropriate descriptive and predictive data science analytics for organizational decision-making and problem-solving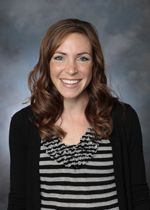 Want to ask a question or set up an appointment with our Director of MBA Programs, Melissa McCarthy, click on the button!
ASK A QUESTION
Admission Requirements
To be admitted to this program, students must hold a bachelor's degree to obtain a Post Baccalaureate Certificate in Business Analytics, or graduate business degree, from an AACSB accredited institution, to obtain a Post Graduate Certificate in Business Analytics:
Current resume
Official transcripts (from all previously attended academic institutions)

As the world's largest business education alliance, AACSB International—The Association to Advance Collegiate Schools of Business (AACSB) connects educators, students, and business to achieve a common goal: to create the next generation of great leaders. Synonymous with the highest standards of excellence since 1916, AACSB provides quality assurance, business education intelligence, and professional development services to over 1,500 member organizations and more than 785 accredited business schools worldwide. The University of Portland Pamplin School of Business is one of five business schools in Oregon accredited by AACSB.