Alpha Kappa Psi
Faculty Advisor: Gwynn Klobes   Office: Franz Hall 416   Telephone: 503.943.8120
The Alpha Kappa Psi business fraternity focuses on developing principle business leaders. At the core of Alpha Kappa Psi are five values: brotherhood, knowledge, integrity, service, and unity. Club members gain knowledge through guest speakers, conventions, and networking. New members go through a pledge process, learning more about the fraternity, successful resume building, and interview skills.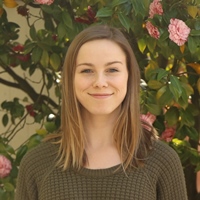 Baylee Hamilton - Class of 2016
Operations & Technology Management
"I'm most thankful for the opportunity for personal development at UP. For 4 years I've been challenged intellectually by professors and through my classes, and professionally through the business school. I'm humbled and encouraged as I prepare to graduate."