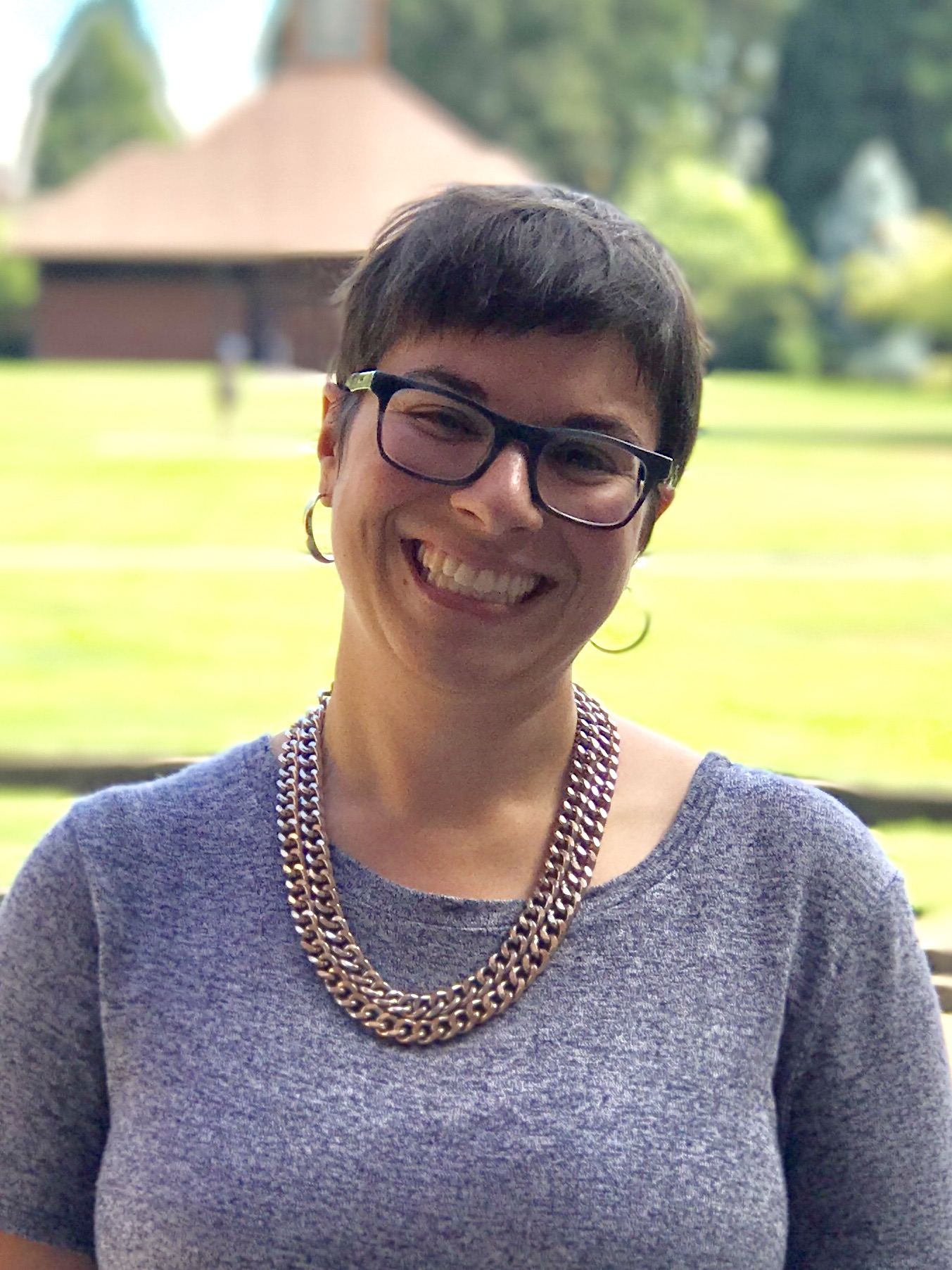 Our first panelist is Sarah Beiderman, Expansion Fund and Grants Manager for Friends of the Children.

Sarah Beiderman is a nonprofit leader with 15+ years of experience dedicated to empowering, inspiring, and connecting diverse communities. Currently, Sarah serves as Expansion Fund and Grants Manager on the national team at Friends of the Children. There, she is focused on expanding Friends' evidence-based model across the country to empower more youth facing the highest risks to reach their full potential.
Her belief in our collective power to transcend some our most difficult issues - inequity, poverty, climate change - was largely built by years spent in the arts. Before moving to Portland, Sarah managed the SPACES World Artists Program, an international residency program for experimental, contemporary artists engaging with international issues and communities in Cleveland, Ohio. During her tenure at SPACES, she served on the Board of Directors of the National Association of Artists' Organizations and helped the National Performance Network establish their Visual Artists Network. She also led the board of Joyful Noise Neighborhood Music School, and served as a panelist for the Ohio Arts Council.
Sarah holds a BA in art history and religion from Oberlin College, and just received her MBA in nonprofit management from the University of Portland. Among other recent accomplishments, she has not yet killed her two indoor plants, Planty and He-Who-Has-Yet-To-Be-Named.
Our second panelist is Ted Rydmark, Practice Manager at LifeWorks NW

Ted Rydmark has joined LifeWorks NW as a Practice Manager for its Northeast Portland site on MLK Jr. Blvd. LifeWorks NW is a leading Portland metro area nonprofit founded 55 years ago, delivering mental health, addiction, and prevention services for thousands of people annually – from infants and teens to adults and seniors.

Ted's role is a new position created in response to LifeWorks NW's selection earlier this year to represent Oregon in the two-year federal demonstration project integrating behavioral and physical healthcare. As a practice manager, Ted will work closely with the clinical manager at the LifeWorks NW King site to implement elements of the new, integrated model toward objectives to drive efficient and cost effective operations resulting in strengthened clinician-client relationships and ultimately enhanced client wellbeing.
Ted earned an MBA in Nonprofit Management in 2015. A recipient of the Andy and Nancy Bryant Fellowship, he is committed to using his skills to help nonprofits innovate in a way that maintains a healthy community. Ted is a lifelong Oregonian with a deep love for coffee, beer, and all things operations. He credits his family and his UP cohort with providing an invaluable framework of support to complete his degree while working full time.

Our third panelist is Rowena Norman, Director of New Partnerships, Feeding America. 
Rowena Norman is a Director of New Corporate Partnerships for Feeding America. She initiates authentic and meaningful partnerships and cause marketing campaigns with Fortune 500 companies. She loves utilizing her strong consultative fundraising, relationship management, and negotiation skills to make a difference every day.
Prior to joining Feeding America, Rowena Norman was a top performing sales executive at Google. She specialized in emerging markets; creating new processes and revenue streams in Washington DC, Singapore, and Canada. One of her favorite memories at Google was holding on to dear life and her laptop in Sri Lanka as she bounced around in a tuk tuk going from client meeting to client meeting. Though she loved the free food that Google offered, Rowena followed her passion and jumped at the opportunity to provide nutritious food to Americans in need.
In her spare time, Rowena Norman loves to explore her new hometown of Portland by eating through the city and biking. She also loves to travel and experience new cultures. One her most unforgettable memories was being chased by monkeys in Costa Rica and Bali.
Lastly, Rowena Norman hopes to exemplify the quote by the esteemed Conan O'Brien, "Work Hard, Be Nice, and Amazing Things Will Happen."
Our fourth panelist is Kate Fagerholm, Development Manager, Regional Arts and Culture Council (RACC).
The Regional Arts & Culture Council (RACC) receives funding from a variety of public and private partners to serve artists, arts organizations, schools and residents throughout Clackamas, Multnomah, and Washington counties. RACC provides grants for artists, nonprofit organizations and schools; manages an internationally acclaimed public art program; raises money and awareness for the arts through workplace giving; convenes forums, networking events and other community gatherings; provides workshops and other forms of technical assistance for artists; and oversees a program to integrate arts and culture into the standard curriculum in public schools throughout the region through "The Right Brain Initiative."
Your Host and Moderator, Mac Prichard
Mac's List started in 2001 as an informal email listserv, circulated among a small group of friends, highlighting job opportunities in Portland. Since our humble beginnings, Mac's List has grown to become Oregon's go-to website for finding a great job. Today, Mac's List is the premier resource for connecting passionate, creative professionals to meaningful and creative work throughout Oregon and SW Washington, with a growing monthly outreach to more than 80,000 people. Whether you are looking for your first job, a better job or just want to manage the direction of your career, Mac's List offers the resources you need to make it happen.