Connecting Tomorrow's Leaders Today
The Pamplin School of Business is dedicated to graduating young professionals who are the preferred hires of corporations and organizations throughout the region and the world.  We recognize that one of the keys to this success is establishing strong connections with leading businesses.   Our business partners are instrumental to our success, and contribute resources that allow the Pamplin School of Business to continually pursue our mission of educating the next generation of ethical and innovative leaders.
Partnership not only benefits our students and alumni, but also the partners with whom we work.  Benefits include priority access to faculty research presentations, our Lunch and Learn Series, student interns, networking events, and classroom discussions.  Partners are also invited to join the Pamplin School at University-sponsored events such as the Pilot Club (athletic events) and HIVE (entrepreneurial events) and to be actively engaged with the Pamplin Professional Preparation Program (P4).
When you are ready to begin your company's partnership with the Pamplin School, call us at 503.943.7224 or email us at psoba@up.edu.
Andrew Vipond - Class of 2017
Operation and Technology Management
"I chose to major in business because I wanted to be a well-rounded person and have the opportunity to open the door to endless possibilities."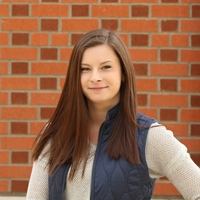 Madeleine Blood - Class of 2016
Operation & Technology Management
"I am most grateful for my OTM professors. I cannot thank them enough for their support and guidance over these past 4 years. They have gone above and beyond not just in the classroom but also by providing so many opportunities to network, participate in extracurricular activities and by just being there to stop by for a chat."