Bloomberg Research Lab
The Pamplin School of Business is proud to host 16 Bloomberg Terminals.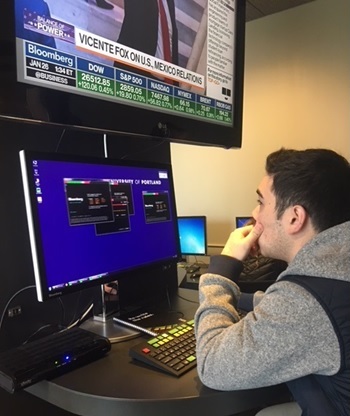 Bloomberg is one of the leading global providers of 24-hour financial news and information, including real-time stock quotes. The Pamplin School of Business is proud that we have the largest Trading Room on the west coast, with sixteen Bloomberg terminals available for student use. Students of all majors use Bloomberg terminals to get historical financial information, company statistics, and market averages.  Students can also use the Bloomberg terminals to browse thousands of job postings from around the country.
Bloomberg for Education Program
For more than 20 years, Bloomberg for Education has been committed to helping universities and colleges incorporate the Bloomberg Terminal into their academic programs to better prepare students for the global job market. 
Universities and colleges around the globe use Bloomberg to bring the real world of finance into the classroom, providing students with access to the same information platform used by leading decision makers in business, finance and government.
The Bloomberg Terminal seamlessly integrates the very best in data, news and analytics. The terminal is a 24-hour, global financial services system that provides transparent and reliable financial, economic and government information covering all market sectors. It features company financials, market data spanning more than 20 years, charts, statistics, a communications platform and current news reports.
The overview above has
been provided by Bloomberg Professional Services for Education.
For more information please go to bloomberg.com/professional.